HMA UK Review
Logfiles
Yes (Provider Logs)
Protocols
OpenVPN, PPTP, L2TP
Money Back
30 Days Money Back Guarantee
Payment Options
Credit Card, PayPal
Clients
Mac, Windows, Linux, iOS, Android, Router, Apple TV, Android Smart TV
Fastest_Download
33.42 Mbps
Connections
2 Simultaneous Connections
Best Use
Remote Access
Unblocking Video Streaming
Unblocking Websites
HideMyAss has been the biggest name in the entire VPN industry for the last couple of years and it still is today. Not only is HideMyAss the world's most popular VPN provider, but it is also the one of the largest VPN networks which is why it is often the preferred choice for a VPN service.
In the UK, HidemyAss offers Servers and IPs from: Glasgow, Scotland, Manchester, London, Leicester, Kent, Hampshire, Berkshire, Nottingham, Maidstone, Gosport, Maidenhead
HidemyAss has 14429 IP Addresses from the UK
HidemyAss has 93 Servers in the UK
HideMyAss was founded by Jack Cator on 2005. At that time, Cator launched HideMyAss as a free proxy server. HideMyAss was operated by Privax Ltd, a global leader in privacy solutions, for 10 years. In May 2015, AVG Technologies bought Privax Ltd including the HMA! Pro VPN software. We still have to see if there will be changes to the VPN service after its parent company was acquired by AVG.
In the meantime, we will show you what makes HideMyAss one of the best VPN services today. In this article, we will detail the numerous features that are loaded on the HMA package. At the end of this review, we will answer the question, is HideMyAss a reliable VPN service?

HideMyAss Log and Privacy Policy
How important is privacy to HideMyAss? The VPN service does not claim not to collect information. HideMyAss is certainly transparent as to what kind of information it collects and store. According to HideMyAss' logging policy, certain personal data, payment details and other data are collected and stored for a period of time.
The data collected are as follows:
Connection time (start and stop)
Bandwidth usage
IP address used (actual and server IP)
Such information are collected only for technical purposes such as operation of the business and maintenance. Data collected are also used for fraud detection and prevention. HideMyAss has also made headlines when it was involved in the LulzSec hacking case that transpired in June 2011. LulzSec hacker was allegedly exposed by HideMyAss. HMA reportedly cooperated with investigating agencies to find evidences of LulzSec's wrongdoings.
HMA said all information being collected are stored on the company's secure VPN servers. Stored information are kept for between 2 and 3 months. HMA operates in accordance with English law since the VPN service is based in London.
HidemyAss VPN Servers around the world:
Turkey, Lithuania, Australia, Honduras, Albania, Georgia, Greenland, Singapore, Cote d`Ivoire, Estonia, Cook Islands, Aland Islands, Dominican Republic, Romania, Pitcairn Islands, United Kingdom, Myanmar, Paraguay, Montserrat, Saint Kitts and Nevis, Kiribati, France, Serbia, Falkland Islands, Iraq, Latvia, Germany, Oman, Netherlands, North America, Nigeria, Czech Republic, Lebanon, Faroe Islands, Poland, Macau, Colombia, Bosnia, Anguilla, Antigua and Barbuda, Saint Vincent and the Grenadines, Grenada, Uganda, Burkina Faso, Slovenia, Tokelau, Brasil, Malta, Argentina, New Zealand, Luxembourg, Cayman Islands, Taiwan, Hungary, Europe, Pakistan, Canada, Norfolk Island, Japan, Suriname, Switzerland, Yemen, Syria, Sweden, Bahrain, Brunei, Austria, Kenya, Montenegro, Panama, Russia, Peru, United States, Aruba, Chile, Malaysia, , Portugal, Hong Kong, Costa Rica, Indonesia, Belarus, Ecuador, Guyana, Turks and Caicos Islands, South Korea, Ukraine, Bangladesh, El Salvador, United Arab Emirates, Denmark, Qatar, Bahamas, Botswana, Guinea, Moldova, Namibia, Saint Lucia, Rwanda, Dominica, Guatemala, Cuba, Croatia, Saint Pierre and Miquelon, Venezuela, Gabon, Spain, Palau, Norway, Macedonia, Afghanistan, Barbados, Saudi Arabia, Iceland, Greece, Nicaragua, Vietnam, Seychelles, Mexico, Benin, British Virgin Islands, Thailand, Oceania, Kuwait, Jordan, Niue, Uruguay, Bolivia, New Caledonia, Palestine, Bulgaria, Italy, Haiti, Saint Helena, Vanuatu, Philippines, Morocco, Bermuda, Cyprus, Christmas Island, Jamaica, India, Ghana, Belize, Israel, Ireland, China, Trinidad and Tobago, Belgium, Slovakia, Cameroon, Finland
HideMyAss Compatibility and Usability
HideMyAss makes it possible for anyone, both average and technically inclined users to easily use its top-notch VPN service. It's actually relatively easy to install the VPN software – setting up HideMyAss on your device should only take about 10-20 minutes. The client app comes with a cool feature called the "Secure IP Binding" which basically an added layer of security to VPN users.
HideMyAss subscribers may download the VPN application to facilitate quick-setup and one-click VPN access. Once the VPN software is installed on your computer, run the VPN app, enter login credentials then connect to a VPN server of your choice. HideMyAss also provides an app for mobile devices.
HideMyAss is compatible with Windows, Mac OSX, iPhone, iPad, Android and Linux-based machines. HMA servers support all major security protocols including L2TP, PPTP and OpenVPN. The encryption levels for the different VPN protocols vary. PPTP uses 128bit encryption, L2TP with 256bit and OpenVPN uses OpenSSL with algorithms 3DES, AES, RC5 and Blowfish, with up to 256bit encryption.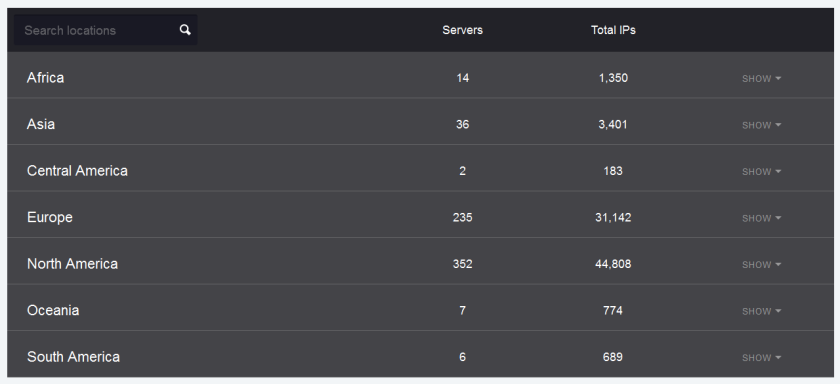 HideMyAss Cost of Subscription and Special Offers
HideMyAss has made its VPN plans more affordable without compromising the features. HideMyAss calls its 1-month of VPN service as the Kick-ass plan. This VPN package costs $11.52 per month. Half-Ass, HMA's 6-month plan is available for only $8.33 per month. Subscribers of the Half-Ass plan will save 30%. HideMyAss has cut down on its 1-year plan to half the price. The Smart-Ass plan now costs $78.60.
HideMyAss also offer additional promotions every now and then. HMA always kick off with various promos all throughout the year including Summer sales, Black Friday sales and Special Christmas deals. Watch out for the latest big-saving sale promotions.
HideMyAss has a 30-day money back guarantee which serves as the free VPN trial too.
HideMyAss Accessibility and Server Locations
HideMyAss has over 940 servers located in 320 locations in 190 countries. The VPN service also keeps adding new servers from time to time. There are about 120,000 IP address to keep users anonymous from the internet.
The most number of HideMyAss servers are located in North America, with 409 active as of this writing. 299 servers are in Europe, Asia has 68 servers, Central America has 6, Africa has 52, Oceania has 26 and South America with 14 HMA servers. The servers are located in major countries all over the world including the US, Canada, Mexico, UK, Netherlands, Austria, Denmark, Germany, Italy, Russia, Sweden, China, Hong Kong, India, Japan, Australia, New Zealand, Costa Rica, Panama, Argentina, Brazil, Egypt and Morocco among others.
To see the full list of HideMyAss servers, visit HideMyAss' server page.

HideMyAss Speed and Aftersales Support
HideMyAss claims to provide fast and stable VPN connections through its VPN servers. HMA has added a special feature to their VPN app that lets users test the different servers and check which servers will provide the fastest connections to your location. This is actually a useful feature that lets users find the perfect server that will provide them the best speeds for downloading large files and streaming HD videos.
As far as customer support is concerned, HideMyAss does provide all the necessary means to help its subscribers with all kinds of concerns. HideMyAss has a very extensive Knowledge Base that covers all the most commonly asked questions, tutorial guides and troubleshooting instructions. If the subscribers can't find the answers they are looking for, HMA also has other support systems including a live chat feature that's available 12 hours a day, support ticket, social media and via the Forum where expert HMA users are ready to help others with their problems and issues with the VPN service.
The Client
HideMyAss UK Review Conclusion
HideMyAss' VPN product is truly a state-of-the-art technology that is widely known and recognized by many as one of the best VPN services of all time. And we agree to the majority of VPN users – HideMyAss does have the technology to hide your 'ass' on the internet.
HideMyAss is a remarkable VPN service – and it keeps users happy by providing quality VPN accesses that promise anonymity and privacy. Even with the lacking feature of torrenting, thanks to the British government for blocking access to popular torrent websites, HMA is still a preferred VPN service.
But come to think of it, HMA is based in the UK which means the VPN company is obligated to comply to the Data Retention Directive. It now leaves us to wonder whether HideMyAss is a dependable VPN service that will hide us from cyber threats as well as from the government's prying eyes? It really boils down to HideMyAss' dedication to helping users become virtually anonymous. If the VPN company stays true to its commitments and promises, then users can be guaranteed of their privacy. If not, then users may not be as safe as they think.
Here are the links to the HidemyAssVPN setup details:
MAC OS setup:
http://wiki.hidemyass.com/Tutorials:Mac_client_installation_tutorial
http://wiki.hidemyass.com/Tutorials:Mac_PPTP_connection_setup
http://wiki.hidemyass.com/Tutorials:Mac_L2TP_connection_setup
Windows setup:
http://wiki.hidemyass.com/Tutorials:WindowsXP_L2TP_connection_setup
http://wiki.hidemyass.com/Tutorials:Windows_L2TP_connection_setup
http://vpn.hidemyass.com/vpncontrol/pptp/xp.html
http://vpn.hidemyass.com/vpncontrol/pptp/7.html
http://wiki.hidemyass.com/OpenVPN_client
iOS – iPad/iPhone/iTouch VPN setup:
http://wiki.hidemyass.com/OpenVPN_setup_on_iPad_iPhone_iTouch
http://wiki.hidemyass.com/Tutorials:IPhone_VPN_setup_via_PPTP
Android setup:
http://wiki.hidemyass.com/Tutorials:OpenVPN_Connect_on_Android
http://wiki.hidemyass.com/Tutorials:Android_Honeycomb_PPTP_and_L2TP_setup
http://wiki.hidemyass.com/Tutorials:Android_ICS_PPTP_setupv
http://wiki.hidemyass.com/Tutorials:Android_ICS_and_Jelly_Bean_PPTP_setup
PS3 setup:
http://wiki.hidemyass.com/Tutorials:HMA_VPN_on_Playstation_3_via_ICS
HP Touchpad setup:
http://wiki.hidemyass.com/HP_Touchpad
XBox setup:
http://wiki.hidemyass.com/Tutorials:HMA_VPN_on_XBOX_via_ICS_on_Mac
Chromebook setup:
http://wiki.hidemyass.com/Chrome_OS
Boxee-Box setup:
http://wiki.hidemyass.com/Boxee-Box
Tomato setup:
http://wiki.hidemyass.com/Tomato_L2TP_Setup
http://wiki.hidemyass.com/Tomato_OpenVPN_Setup
http://wiki.hidemyass.com/Tomato_OpenVPN_Setup_no._2
http://wiki.hidemyass.com/Tomato_PPTP_Setup
DD-WRT setup:
http://wiki.hidemyass.com/DD-WRT_OpenVPN_Setup
http://wiki.hidemyass.com/DD-WRT_OpenVPN_Setup_-_old_version
OpenWRT setup:
http://wiki.hidemyass.com/OpenWRT_OpenVPN_Setup
Go to hidemyass.com
Last updated on 22nd of December 2020