VyprVPN UK Review
Clients
Windows, Mac OS, iOS, Android
Money Back
30 Days Money Back Guarantee
Payment Options
Credit Card, Paypal
Protocols
OpenVPN, PPTP, L2TP, IPSec, Chameleon
Company Location
Switzerland
Best Use
Remote Access
Unblocking Video Streaming
Unblocking Websites
Encryption
128-/ 160-/ 256-Bit
2010 was the year when VyprVPN was born to its parent company Golden Frog. The company behind the establishment of one of the best VPN services today has been supplying internet services since 1994 which helped VyprVPN find and acquire a loyal target market in a short span of time.
VyprVPN promises big things. VyprVPN's tagline goes, "Don't let the internet browse you." In today's world with widespread mass surveillance, we can certainly make use of a reliable VPN service that will truly hide us from prying eyes, a VPN company that would not sell us out along the way.
The question now is can we even trust VyprVPN? Is VyprVPN a genuine VPN service and not something that's set up by the government? In this comprehensive review, we will try to answer all these questions.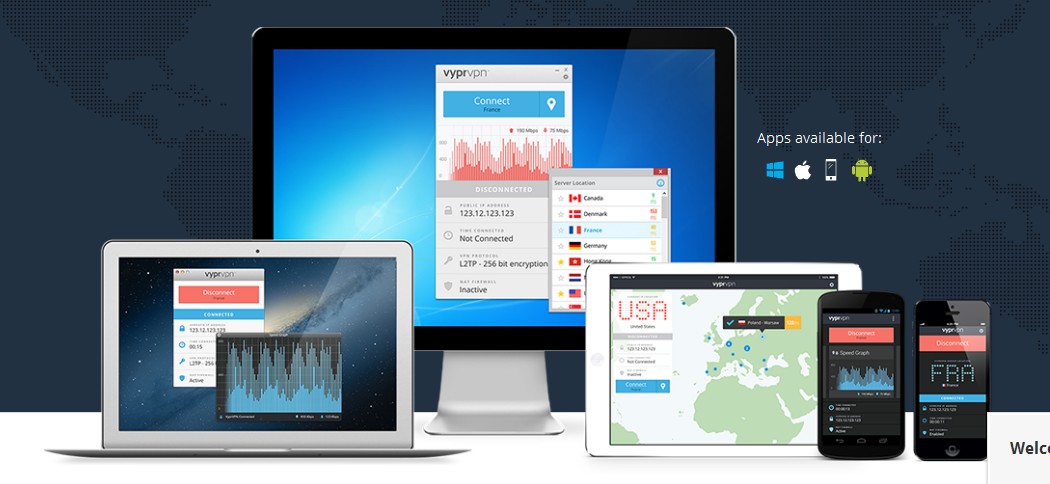 VyprVPN UK Log and Privacy Policy
Since VyprVPN is part of the many products of Golden Frog, a company based in Switzerland, it is safe to assume that VyprVPN operate under the jurisdiction of the Swiss government. Golden Frog also complies with the US-EU Safe Harbor Framework, a streamlined process for US companies to comply with EU laws on the protection of consumer data.
Under Golden Frog's Privacy Policy, the company retain VyprVPN session data for 30 days. Information that are stored are users' IP addresses (source and VyprVPN used), connection time (start and stop) and total number of bytes used. Such information are to be used for troubleshooting purposes, service evaluation, TOS issues, AUP issues, billing issues and will also serve as records of crimes committed over the service.
Golden Frog wants to make it transparent that it is collecting such information only to address technical issues. The information that are not being collected includes user traffic, content of communications and data pockets. The company does not share account details to its affiliates, business partners or any entities that wants to use VyprVPN consumer data for marketing purposes or otherwise.
Update: VyprVPN doesn`t keep logfiles anymore, it has been verified by Leviathan Security Group!
VyprVPN UK Cost of Subscription and Special Offers
First of all, VyprVPN is offering a 30 Days Money Back Guarantee to anyone looking to give the service a test run before keeping a VyprVPN subscription. If users are satisfied with the VyprVPN service and overall performance, they can continue to pay for a VyprVPN package.
There are 2 VPN plans offered by VyprVPN: Basic and Premium. A VyprVPN Basic plan costs €7.95 per month with unlimited data usage and PPTP support. It allows 3 simultaneous connections. The Premium plan costs €11.95 a month, but it allows 5 simultaneous connections, supports all protocols and comes with the NAT Firewall feature. Both plans get cheaper if customers subscribe for one year.
There is also a VyprVPN for Business package that starts at $299.99 per year. This plan is ideal for businesses looking to secure their communication lines.
VyprVPN has recently introduced a FREE package with a 500 MB monthly data limit. The Free Limited plan also can connect 2 simultaneous devices, NAT Firewall included and supports all security protocols.

VyprVPN Compatibility and Usability
VyprVPN supports almost all kinds of operating systems and internet-capable devices. VyprVPN will work on most desktops, mobile devices and DD-WRT routers. Aside from the most popular security protocols namely PPTP, L2TP and OpenVPN, VyprVPN has also develop its very own proprietary protocol known as the Chameleon. The Chameleon technology is available in the dedicated client apps for Windows, Mac and Android devices. There is also VyprVPN app available for iOS devices; however, the Chameleon protocol can't be used due to Apple's restrictions to only using the IPSec protocol.
VyprVPN use varying encryption levels with the supported protocols. For PPTP, VyprVPN uses 128 bit, 236 bit for L2TP/IPSec, 160-256 bit for OpenVPN and 256bit for the Chameleon protocol. While OpenVPN provide the best features, VyprVPN recommend the use of their Chameleon technology for users that are currently in countries with heavy internet regulations.

VyprVPN Accessibility and Server Locations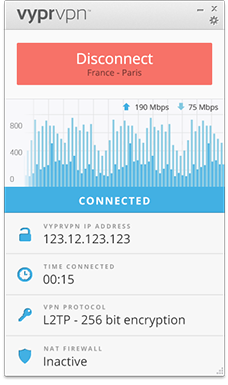 VyprVPN has 700+ servers located in 48 global locations. VyprVPN has servers in major cities and countries across the
globe. The servers are strategically located in Canada (Toronto), Mexico, US (Austin, Chicago, Los Angeles, Miami, NY, San Francisco, Seattle, Washington), Hong Kong, Indonesia, Japan, Malaysia, Philippines, Singapore, South Korea, Taiwan, Thailand, Vietnam, Austria, Belgium, Czech Republic, Denmark, Luxembourg, Finland, France, Germany, Iceland, Ireland, Italy, Lithuania, Netharlands, Norway, Poland, Portugal, Romania, Russia, Spain, Sweden, Switzerland, Turkey, UK (London), Costa Rica, Panama, Argentina, Brazil, Australia (Melbourne, Perth, Sydney, Auckland) and Colombia.
The client is easy to understand. The clear modern design of the software interface guides you through the setting options. You find them right on top of the client when you click on the little settings sign.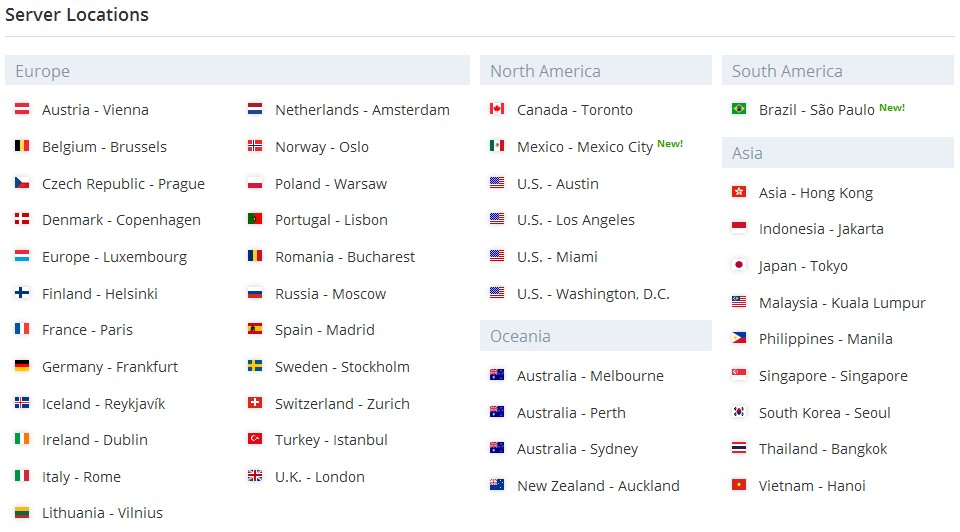 VyprVPN Speed and Aftersales Support
VyprVPN considers its network as the world's fastest VPN. Based on the tests we did with VyprVPN, we are certain that it offers one of the most stable and fastest VPN services in the market. The VPN service does not cap traffic or bandwidth as well.
VyprVPN's live chat customer support is among the best. VyprVPN has customer support agents that would quickly respond to your queries with accurate and useful information.
VyprVPN UK Review Conclusion
VyprVPN is safe from the jurisdiction of the world's powerful government agencies such as the NSA of the US and GCHQ of UK. Meaning, users will be able to keep their internet browsing habits secure and private while connected to the VyprVPN server. VyprVPN has also added their own DNS solution dubbed as the VyprDNS. VyprVPN's Smart DNS service is built into VyprVPN which gives VyprVPN users added unblocking features to defeat censorship across the world.
Here are the links to the VyprVPN setup details:
Windows XP setup:
https://support.goldenfrog.com/hc/en-us/articles/204405633-OpenVPN-OpenVPN-GUI
https://support.goldenfrog.com/hc/en-us/articles/204087563-PPTP
https://support.goldenfrog.com/hc/en-us/articles/204087663-L2TP-IPsec
Windows 8 setup:
https://support.goldenfrog.com/hc/en-us/articles/204103016-OpenVPN-OpenVPN-GUI
https://support.goldenfrog.com/hc/en-us/articles/203814206-PPTP
https://support.goldenfrog.com/hc/en-us/articles/204087333-L2TP-IPsec
Windows 8 RT setup:
https://support.goldenfrog.com/hc/en-us/articles/204087383-PPTP
https://support.goldenfrog.com/hc/en-us/articles/203814236-L2TP
Windows 7 setup:
https://support.goldenfrog.com/hc/en-us/articles/204103026-OpenVPN-OpenVPN-GUI
https://support.goldenfrog.com/hc/en-us/articles/203814256-PPTP
https://support.goldenfrog.com/hc/en-us/articles/203814366-L2TP-IPsec
Windows Vista setup:
https://support.goldenfrog.com/hc/en-us/articles/203814446-PPTP
https://support.goldenfrog.com/hc/en-us/articles/203814466-L2TP-IPsec
https://support.goldenfrog.com/hc/en-us/articles/203814506-OpenVPN
Mac OS X 10.5-10.7 setup:
https://support.goldenfrog.com/hc/en-us/articles/204088093-PPTP
https://support.goldenfrog.com/hc/en-us/articles/203815276-L2TP-IPsec
https://support.goldenfrog.com/hc/en-us/articles/204107613-OpenVPN
https://support.goldenfrog.com/hc/en-us/articles/204088173-OpenVPN-Tunnelblick
https://support.goldenfrog.com/hc/en-us/articles/204088193-OpenVPN-Viscosity
MAC OSX 10.8+ setup:
https://support.goldenfrog.com/hc/en-us/articles/203814906-PPTP
https://support.goldenfrog.com/hc/en-us/articles/204087943-L2TP-IPsec
https://support.goldenfrog.com/hc/en-us/articles/204107603-OpenVPN
https://support.goldenfrog.com/hc/en-us/articles/204088023-OpenVPN-Tunnelblick
https://support.goldenfrog.com/hc/en-us/articles/204088053-OpenVPN-Viscosity
iOS 6 – iPhone & iPod Touch setup:
https://support.goldenfrog.com/hc/en-us/articles/204088203-PPTP
https://support.goldenfrog.com/hc/en-us/articles/204088263-L2TP-IPsec
https://support.goldenfrog.com/hc/en-us/articles/204088283-OpenVPN-OpenVPN-App
iOS 6 – iPad setup:
https://support.goldenfrog.com/hc/en-us/articles/203815376-PPTP
https://support.goldenfrog.com/hc/en-us/articles/204088313-L2TP-IPsec
https://support.goldenfrog.com/hc/en-us/articles/204088353-OpenVPN-OpenVPN-App
iOS 7 – 8 setup:
https://support.goldenfrog.com/hc/en-us/articles/204088383-PPTP
https://support.goldenfrog.com/hc/en-us/articles/203815456-L2TP-IPsec
https://support.goldenfrog.com/hc/en-us/articles/203815486-OpenVPN-OpenVPN-App
Android 2.0 setup:
https://support.goldenfrog.com/hc/en-us/articles/204088463-PPTP
https://support.goldenfrog.com/hc/en-us/articles/204088483-L2TP-IPsec
https://support.goldenfrog.com/hc/en-us/articles/204088513-OpenVPN-FEAT-VPN
Android 4.X setup:
https://support.goldenfrog.com/hc/en-us/articles/203815546-PPTP
https://support.goldenfrog.com/hc/en-us/articles/203815556-L2TP-IPsec
Chromebook setup:
https://support.goldenfrog.com/hc/en-us/articles/203815616-L2TP-IPsec
Linux setup:
https://support.goldenfrog.com/hc/en-us/articles/204102996-VyprVPN-Command-Line-Interface-for-Linux
https://support.goldenfrog.com/hc/en-us/articles/204088543-PPTP
https://support.goldenfrog.com/hc/en-us/articles/203815626-OpenVPN
DD-WRT Firmware setup:
https://support.goldenfrog.com/hc/en-us/articles/204102956-OpenVPN
https://support.goldenfrog.com/hc/en-us/articles/203815646-PPTP
Synology NAS setup:
https://support.goldenfrog.com/hc/en-us/articles/204088653-PPTP
https://support.goldenfrog.com/hc/en-us/articles/205369467-VyprVPN-Router-App-Beta-
https://support.goldenfrog.com/hc/en-us/articles/204088673-OpenVPN
Tomato setup:
https://support.goldenfrog.com/hc/en-us/articles/204103006-VyprVPN-Router-App
https://support.goldenfrog.com/hc/en-us/articles/205369467-VyprVPN-Router-App-Beta-
https://support.goldenfrog.com/hc/en-us/articles/204088603-OpenVPN
Boxee Box setup:
https://support.goldenfrog.com/hc/en-us/articles/204088633-PPTP
OpenELEC setup:
https://support.goldenfrog.com/hc/en-us/articles/206497567-VyprVPN-PPTP-Setup-for-OpenELEC
Go to vyprvpn.com
Last updated on 17th of October 2021