PureVPN UK Review
Clients
Windows, Mac OS, Linux, iOS, Android
Payment Options
PayPal, Credit Card, Moneybookers, AlertPay, WebMoney, Bitcoin, Plimus, Mercadopago, MyCard, Indomog, Epagseguro, Fanapay, Interac, Dotpay, Giropay, Allpay, IDeal, EPrePag, SanalPara, Posta Ceki, ToditoCash, Ukash, Cashu, Paysafecard, Fortumo, EcoPayz, Necard, Gamania, Neosurf, GSCash, Ticketsurf, Allpass, Smscoin, MikroÖdeme, Impulsepay, Daopay
Protocols
PPTP, OpenVPN, IKEv2, L2TP, IPSec, SSTP
Company Location
Hong Kong
Connections
5 Simultaneous Connections
Best Use
Remote Access
Unblocking Video Streaming
Unblocking Websites
About the service of Pure VPN for the UK

With increased censorship and surveillance on the internet these days, it's definitely high time to use a reliable VPN. Privacy and security is a necessity that each and every one of us deserve. No matter what the government does to deny our rights to a free internet, we should never cease to fight for that privilege. And when it comes to personal security, we can always rely on to PureVPN.
PureVPN offers 40+ Servers in the UK with about 4200 IP addresses in the following cities: Maidenhead, Manchester, London, Leicester, Gosport.
PureVPN promises to provide the purest VPN service without hidden agendas. PureVPN is based out of Hong Kong. The VPN service was established in 2006 with one main goal, to provide the world's best VPN service.
For PureVPN, nothing is more valuable than freedom. The company is extremely dedicated to providing quality VPN services that would allow users all over the world to regain their freedom on the internet.
What security features does PureVPN offer in order to ensure everyone of secure and private internet browsing activities? Let's find out in this PureVPN product overview and review.
PureVPN Log and Privacy Policy
PureVPN stays true to the real definition of a VPN service. PureVPN completely understand that you need your privacy and thus it does not monitor or log any of your activities. According to PureVPN, it chose to put up its headquarter in Hong Kong because there are "No Mandatory Data Retention Laws" in the Pearl of the Orient. PureVPN is therefore not legally obligated to store consumer data or obliged to share user data with government agencies or with anyone for that matter.
PureVPN claims to not store activities, record website users' visit, monitor downloaded content, list down apps that are being used by subscribers, etc. PureVPN does record session time, bandwidth usage and the PureVPN IP addresses that the users used. PureVPN assures users that such records will only be used for maintenance purposes.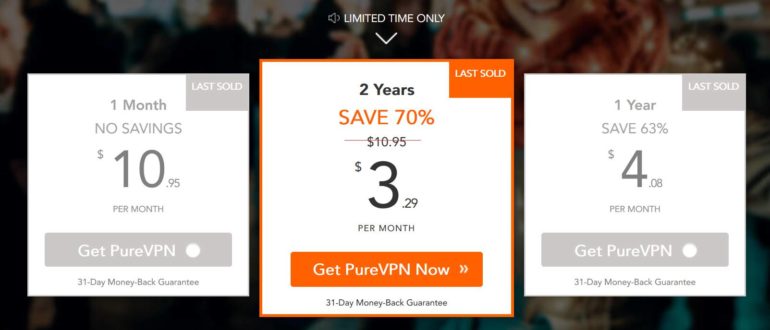 PureVPN Servers around the world:
Slovenia, Myanmar, Australia, France, Sri Lanka, Jamaica, Bangladesh, Angola, Argentina, Mauritius, Seychelles, Spain, Ghana, Algeria, Ireland, Austria, Jamaica, Egypt, Tanzania, Liechtenstein, Tokyo, Kenya, Oman, Iceland, Ecuador, Azerbaijan, Panama, Nigeria, Chile, Brazil, Russia, Niger, Venezuela, Croatia, Belgium, Qatar, Turkmenistan, Cambodia, Laos, Bahamas, Portugal, Kyrgyzstan, Bosnia Herzegovina, Bulgaria, Myanmar, Indonesia, Luxembourg, Finland, UK, Sweden, Albania, Hong Kong, Yemen, Cuba, Colombia, Belize, Syria, Pakistan, Latvia, Turkey, Singapore, Brunei, Papua New Guinea, Denmark, Costa Rica, Netherlands, Vietnam, Malta, Montenegro, Estonia, Mauritania, Slovakia, Tajikistan, Germany, Taiwan, Japan, Tunisia, Saudi Arabia, Malaysia, India, Uzbekistan, Ethiopia, Philippines, Norway, South Africa, Senegal, Lithuania, Mongolia, Cyprus, Lebanon, Romania, Madagascar, Czech Republic, New Zealand, Switzerland, China, Jordan, Poland, UAE, Serbia, Greece, Peru, Afghanistan, Canada, Hungary, Georgia, Kazakhstan, South Korea, Italy, Thailand, Mexico, Bahrain, USA
PureVPN allows Filesharing in:
Kyrgyzstan, Costa Rica, Armenia, Mongolia, Germany, Peru, Algeria, Monaco, Tanzania, Afghanistan, Angola, Netherlands, Niger, Kazakhstan, Bulgaria, British Virgin Islands, Denmark, Moldova, Laos, Oman, Colombia, Senegal, Pakistan, Luxembourg, Lebanon, Panama, Mauritania, Mauritius, Bahrain, Tunisia, Estonia, Puerto Rico, Ethiopia, Turkey, Madagascar, Myanmar, Kenya, Latvia, Turkmenistan, UAE, Serbia, Ecuador, Belize, Norway, Russia, Saudi Arabia, Brunei, Venezuela, Belgium, Slovenia, Portugal, Ghana, Sweden, Bangladesh, Papua New Guinea, Tajikistan, Sri Lanka, Uzbekistan, Romania, Nigeria

PureVPN Compatibility and Usability
PureVPN supports various devices with the most preferred security protocols. PureVPN is compatible with Windows, Mac, Linux, iOS, Android, gaming consoles, routers and more. PureVPN offers a dedicated VPN client app for Windows, Mac, iOS and Android devices. Other platforms may need to manually configure PureVPN to make it work.
The software itself is a work of art. The PureVPN custom VPN app is an easy-to-use software that makes it easy to select a server to connect to. PureVPN have thought things thru with the custom software that simplifies everything from installation to operation.
PureVPN support the most widely used protocols to suit the needs of consumers. The protocols that are supported are PPTP, L2TP, SSTP, IKEV2 and SSL-based OpenVPN. All security protocols are equipped with up to 256bit encryption.

PureVPN is loaded with tons of other features including NAT Firewall, Smart DNS and Internet Kill Switch. The app for iOS and Android looks slick too. The mobile apps are designed to work like the desktop app. Unlike apps from other VPN providers, PureVPN's mobile apps packed with full features including server change, live support, and subscription management.
PureVPN Cost of Subscription and Special Offers
PureVPN offer competitive prices for its VPN plans. PureVPN offer a monthly VPN plan, six-month VPN subscription and an annual VPN plan.
PureVPN is offering its VPN services for only $10.95 per month. If you want to avail of big discounts, you can choose to subscribe to a multi-month term. PureVPN's 12-month plan costs $49 or $4.08/Month (63% OFF). The best offer is definitely the 24-month-plan that only costs $79 or $3.29/Month (70% OFF). Every account is subjected to a 7 days money back guarantee.
Here's a complete list of features you get with a PureVPN subscription.
Unlimited data transfer and unlimited server switches
Fast VPN service in a Gigabit network
Military-grade data encryption
99.99 % uptime and Internet kill switch
24/7/365 live chat support
Smart purpose selection and Automatic protocol selection
WiFi security / firewall to protect data from being stolen by a hacker
5 simultaneous logins with a single account
Access to the built-in split tunnelling feature
NAT firewall that blocks unwanted and unauthorized inbound traffic
Dedicated IP with more than 80,000+ IP's to choose from
If you want to give PurePVN a try, you may subscribe to a paid trial account that will run for 3 days. The trial account costs $2.50. Trial account is non-refundable.

PureVPN Accessibility and Server Locations
PureVPN has one of the largest VPN networks in the market today. PureVPN has server presence in 141 countries. Over 500 servers are currently active as of this writing.
The countries where a PureVPN server is located in includes USA, UK, Australia, Brazil, Bulgaria, Canada, Chile, China, Costa Rica, Egypt, France, Germany, Hong Kong, Hungary, Indonesia, Ireland, Italy, Japan, Latvia, Luxembourg, Malaysia, Netherlands, New Zealand, Panama, Romania, Russia, Singapore, South Africa, South Korea, Sweden, Switzerland, Taiwan, Thailand, Turkey, Ukraine, Czech Republic, Monaco, Greece, India, Philippines and UAE among others. Check out the full list of server locations here.
The PureVPN Client
PureVPN Speed and Aftersales Support
PureVPN maintain its own Gigabit network which is why it can offer blazing fast VPN connections. With Automatic load balancing feature, users are assured of the fastest VPN connection possible. The network will automatically select a server that will provide the fastest VPN connection to your location.
As far as aftersales customer support is concerned, we also give PureVPN two-thumbs up. We are impressed by the promptness and politeness of replies by the customer support agents. Queries are responded back to in a few minutes either via the 24/7 live chat feature or email support.
PureVPN UK Review Conclusion
As for our verdict of PureVPN's overall performance, we believe that the VPN company is bigger that what it seems to be at the moment. It might not be as well-known as other VPN big names, but PurePVN is definitely at the same level as its more reputed competitors.
Feature wise, PureVPN is a bang for the buck! Not only will you get high quality VPN service, you also get additional cool features that would allow for more secure connections. We like the fact that PureVPN is not based in the UK or US where surveillance and spying practices by the government is widespread. If anyone is looking to hide from prying eyes, we recommend that you make use of PureVPN. With PurePVN, you can unblock the internet while keeping your activities private.
PureVPN is the purest VPN service in our opinion.
Here are the links to the PureVPN setup details:
OpenVPN manual setup:
Windows setup:
MAC OS setup:
Linux setup:
iOS setup:
http://support.purevpn.com/ios-setup-guide
Android setup:
Blackberry setup:
Router manual setup:
SmartTV setup:
http://support.purevpn.com/smarttv-manual-setup-guide
Go to purevpn.com
Last updated on 30th of June 2020