Perfect Privacy VPN Review
Clients
Windows, Mac OS X, Linux, Android, iOS
Company Location
Switzerland
Encryption
AES-256-Bit, IKEv2, MPPE-128
Logfiles
No Log Files! only safes username, password and timeout of contract
Money Back
7 Days Money Back Guarantee
Payment Options
Bitcoin, Cash, PaySafeCard, PayPal, Credit Card, Perfect Money, MoneyBookers, Neteller, EgoPay, WebMoney
Protocols
OpenVPN, IPSec, SSH2 Tunnel, Squid- and Socks5-Proxyserver, PPTP
Best Use
Remote Access
Unblocking Video Streaming
Unblocking Websites
There is no doubt that mass surveillance schemes by the government threaten people's right to privacy. We live in a world with innovations that can make our lives more convenient but it seems though that modern technology is being used for the wrong reasons. And abuse of technology could inevitably lead to privacy-invading consequences.
Perfect Privacy has UK Servers and IP addresses from Nottingham and London.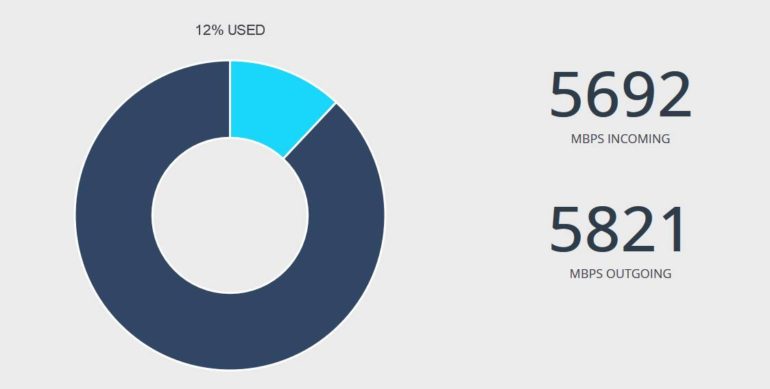 In total they have 3 servers in the UK.
Privacy keeps getting more important by the day. Although there are certain policies and laws covering different ways to maintain and protect individual privacy, the scopes of such privacy laws don't extend to online data protection.
The only way to truly protect one's privacy is by using a reliable VPN service to hide from spying parties. One VPN company that promise to provide perfect privacy protection against cyber threats is Perfect Privacy. The VPN service provider has been providing privacy and anonymity to users worldwide since 2008.
But can we really trust Perfect Privacy with our privacy? Read this comprehensive review of Perfect Privacy and find out how committed the VPN service is in protecting user privacy.
Perfect Privacy Log and Privacy Policy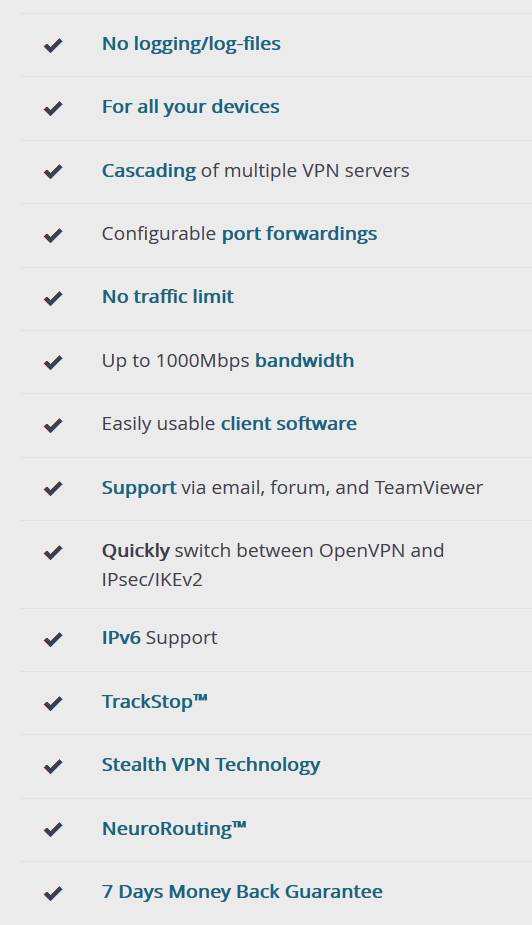 Perfect Privacy is said to be based in New Zealand by a number of websites. But on the VPN company's Imprint page, it says there that a Panama-based company manages their VPN servers and a Switzerland-based company does data management for the company, which could mean that it handles the company's data and payment processing. So, we really don't know what Perfect Privacy's jurisdiction is. We can all assume that the VPN company operates and comply with Panama / Switzerland laws – as long as they are not based in the US or UK, it's safe to say that user privacy is not at risk.
Perfect Privacy says it tries its best to store as little data as possible so as not to compromise users' privacy in case the government forces the VPN company to disclose user information. Under such circumstances, Perfect Privacy won't have anything to give away since no records or significant user data are stored in their servers.
The only data that Perfect Privacy store are login credentials, email address and account expiration dates. No connection logs are collected, stored or shared with third parties.
Perfect Privacy Compatibility and Usability
Perfect Privacy is offering a full VPN service that is compatible with different platforms. Perfect Privacy will work on Windows, Linux, Mac OS, DD-WRT / Tomato routers, iOS and Android devices. Perfect Privacy, however, only offers a VPN client software for Windows. For other platforms, users will have to setup the VPN manually by following the guides in the How-To section.
For encryption, Perfect Privacy makes use of OpenVPN, IPSec, PP2P, SSH security protocols. Perfect Privacy offers 25bit as the standard encryption. SOCKS5 and Squid proxy available on all servers.
Torrent downloading is allowed on servers that are outside of the United States. If you'd like to use torrenting platforms such as BitTorrent, make sure that you connect to a server that is not located in the US. Perfect Privacy uses shared IPS in order to increase member's anonymity. Since no specific IP address is being used by a certain member, there would be no traces of whose doing what on the network.
Perfect Privacy Cost of Subscription and Special Offers
Perfect Privacy's VPN plans are a lot more expensive than the competition which could deter potential customers from subscribing to the VPN service. The standard one month plan costs €12.99. Perfect Privacy also offers multi-month plan for discounted price. The one-year VPN plan costs €9.99/month and the 24-month subscription is priced at €8.95/month.
With every VPN plan, users benefit from a zero-log policy, unlimited traffic, up to 1000mbps bandwidth and access to all VPN servers. Users also are provided with the easy-to-use client software to setup the VPN and enable port-forwardings.
Perfect Privacy does not offer any free trial or a money back guarantee which could turn off new users. The payment options available are as follows: PayPal, Bitcoin, Bitcoin Debit Cards, WebMoney,OK PAY, EGO PAY, Perfect Monet, credit cards and more. During signup, users don't need to provide any personal information to purchase a VPN plan. They only need to provide a valid email address and their chosen username.

Perfect Privacy Accessibility and Server Locations
Perfect Privacy has servers located for example in Australia, Brazil, Canada, Czech Republic, Egypt, France, Germany, Hong Kong, Iceland, Israel, Japan, Latvia, Lithuania, Luxembourg, Netherlands, Norway, Panama, Romania, Russia, Singapore, Sweden, Switzerland, Turkey, Ukraine, United Kingdom and the United States. There are 58 servers located in the 26 countries.
Perfect Privacy Speed and Aftersales Support
As far as speed is concerned, Perfect Privacy offers a pretty fast VPN service. Members may check the status of each of the available servers on the Info section. Users would be able to monitor the bandwidth utilizations so they can select the fastest VPN server to connect to.
Disappointingly, Perfect Privacy's customer support needs a lot of work. As of this writing, Perfect Privacy only offers assistance via email, contact form and via the forum community. No live chat or phone support so there's no chance of getting prompt responses.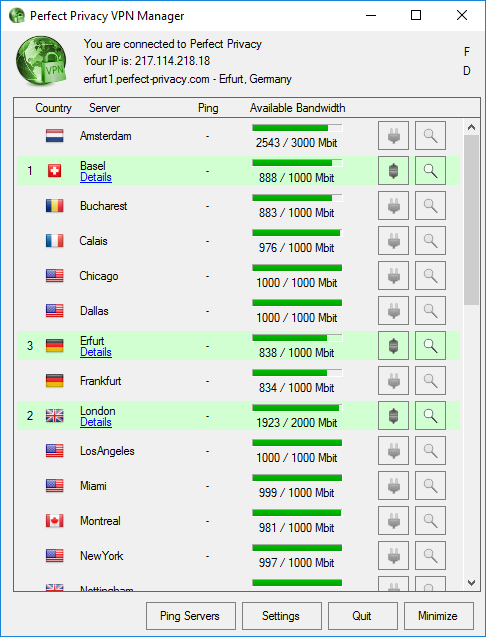 Perfect Privacy Review Conclusion
Perfect Privacy is a reliable VPN service that puts security and privacy as their main priority. The only problem with this solid VPN service is that it's too expensive. Compared to the more popular competitors, Perfect Privacy's VPN plans are doubled in price. Even its support is limited to a few platforms. The client software is only available for Windows so it's really inconvenient to make the service work on other devices.
If it weren't for the pricing and limited support, we would definitely give Perfect Privacy our two thumbs up. We just think there are better options for the price that Perfect Privacy is asking for. Perfect Privacy offer one of the most secured and private VPN connections in the market today.
If you don't mind paying a premium priced but solid VPN service, then we recommend Perfect Privacy. Otherwise, there are other major VPN services out there that offer more than what Perfect Privacy has to offer.
Here is how to setup PerfectPrivacy VPN:
Windows 8 setup:
https://www.perfect-privacy.com/howto/perfect-privacy-openvpn-manager-windows-8
https://www.perfect-privacy.com/howto/http-proxy-configuration-windows-8
https://www.perfect-privacy.com/howto/tor-vpn-firefox-windows-8
https://www.perfect-privacy.com/howto/ipsec-ikev2-certificates-windows-8
Windows 7 setup:
https://www.perfect-privacy.com/howto/perfect-privacy-openvpn-manager-windows-7
https://www.perfect-privacy.com/howto/openvpn-with-windows
https://www.perfect-privacy.com/howto/ssh2-with-pp-tunnel-manager-and-windows
https://www.perfect-privacy.com/howto/http-proxy-configuration-windows-7
https://www.perfect-privacy.com/howto/tor-vpn-firefox-windows-7
https://www.perfect-privacy.com/howto/ipsec-ikev2-certificates-windows-7
Windows Vista setup:
https://www.perfect-privacy.com/howto/perfect-privacy-openvpn-manager-windows-vista
Mac OSX setup:
https://www.perfect-privacy.com/howto/openvpn-tunnelblick-macos-x/
iOS setup:
https://www.perfect-privacy.com/howto/ipsec-ios/
https://www.perfect-privacy.com/howto/l2tpipsec-with-ios/
https://www.perfect-privacy.com/howto/pptp-with-ios/
https://www.perfect-privacy.com/howto/openvpn-ios-ipad-iphone/
Android setup:
https://www.perfect-privacy.com/howto/ipsec-android/
https://www.perfect-privacy.com/howto/pptp-android/
https://www.perfect-privacy.com/howto/openvpn-android/
Debian/Ubuntu setup:
https://www.perfect-privacy.com/howto/openvpn-with-linux/
Ubuntu setup:
https://www.perfect-privacy.com/howto/perfect-privacy-openvpn-manager-ubuntu/
Go to perfect-privacy.com
Last updated on 30th of June 2020