CyberGhost VPN Review
Payment Options
Credit card, Paypal, Bitcoin, Bank Transfer
Protocols
OpenVPN, L2TP, IPSec, PPTP
Best Use
Anonymous Surfing
Remote Access
Unblocking Video Streaming
Unblocking Websites
Clients
Windows, Mac OS, iOS, Android
Connections
5 Simultaneous Connections (only at Premium Plus Account)
CyberGhost is a widely known VPN service that offers free and premium VPN accesses. The VPN service's goal is to be able to reboot the internet back to when it was free from all sorts of censorships and cyber threats.
The use of a VPN is on the rise. More and more people now realize that in order to truly gain security online, they need to make use of a reliable VPN service to help them hide from hackers, cyber scams, data sniffers and big brother. What better way to protect one's privacy than by using a tried and tested VPN service, right?
CyberGhost has been around since 2007 which is why a lot of users prefer it over the newer VPN services. The common questions that are being asked by the majority of users are, is CyberGhost a good VPN service? What's CyberGhost's track record like? Can we really trust this VPN service?
In this review, we will detail the many features that CyberGhost has to offer.

CyberGhost VPN Log and Privacy Policy
CyberGhost VPN is a product offered by CyberGhost S.R.L. The company is based out of Romania and thus it observes Romanian laws and regulations. As part of the European Union, Romania is supposed to comply with the EU Data Retention Directive obligating electronic communications services (VPNs included) to retain consumer data for a certain period of time. The EU directive was declared unconstitutional by the Constitutional Court of Romania twice. So, there aren't any data retention laws in Romania at the moment.
According to CyberGhost, when they say they take user privacy seriously, they really mean it. CyberGhost wants users to know that it is a service that genuinely protects privacy. The VPN company claims that it does not store statistical data which could be linked to a user account. The VPN service, however, collect certain data but only uses them for operational purposes.
CyberGhost says it collects and uses no personal data. To process payments, CyberGhost relies from payment operators to accommodate orders for subscriptions. This way, CyberGhost doesn't have data of user accounts.
CyberGhost also publishes a Transparency Report on a regular basis. The report contains information of the number of requests to disclose user data the company has received since 2011 up to the present day. The report basically details numbers of DMCA notices, police requests and other malicious data requests by authorities, companies or individuals.
CyberGhost VPN Accessibility and Server Locations
CyberGhost has over 500 servers located in 31 countries. CyberGhost also provides a way to check the availability of its servers. Here are the server locations: Austria, Australia, Belgium, Canada, Switzerland, Czech Republic, Germany, Denmark, Spain, Finland, France, UK, Hong Kong, Hungary, Ireland, Israel, Iceland, Italy, Japan, Lithuania, Luxembourg, Mexico, Netherlands, Norway, Poland, US, Russia, Sweden, Singapore, Ukraine and Romania. A lot of its servers are located in Germany, the Netherlands and the United States. Based on the server status page, it looks like most CyberGhost VPN subscribers are from Germany.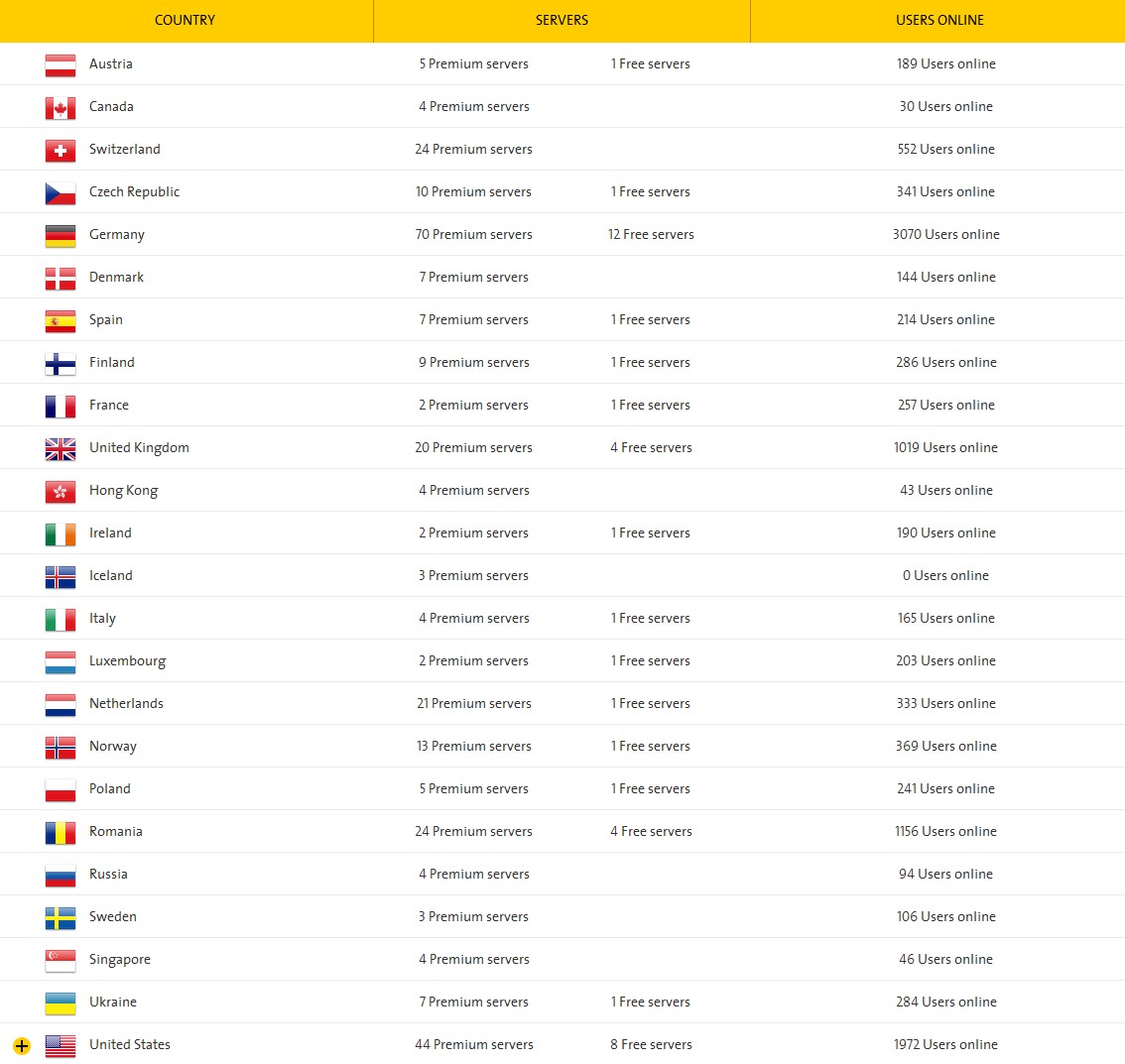 CyberGhost VPN Compatibility and Usability
CyberGhost offers a simple and easy to install VPN software for various platforms. Users may download the one-click CyberGost application on their Windows, Mac, iOS, Android or Linux desktops. CyberGhost VPN also supports ChromeOS, flashrouters, Raspberry Pi, game consoles, ebook readers and other internet-enabled devices.
Furthermore, CyberGhost support protocols including OpenVPN, L2TP/IPSec and PPTP. The VPN network is also encrypted with AES-256 bit which is the standard encryption system nowadays.
CyberGhost VPN Cost of Subscription and Special Offers
CyberGhost offers a completely free service and a Premium VPN service. The free plan of course has a few limitations. Free plan users will be limited to the servers they can only connect to. The Free subscription used to have a bandwidth restriction, but the company got rid of the bandwidth limitation probably because the cutoff time of three hours is frustrating enough. If you're using the free VPN service, you will be disconnected from the VPN network every three hours. If you're happy with CyberGhost's performance, then it would be better if you get a paid subscription in order to get the most out of the VPN service.
The Premium plan costs $6.99 per month. Compared to its competitors, CyberGhost's regular VPN package is way cheaper. The average VPN package offered by other VPN services ranges from $9.00-$12.00 per month. With CyberGhost's Premium VPN packages, subscribers won't have to deal with limited server selection already, no ads, and is 5 times faster compared to the free plan. Need 5 devices to use your CyberGhost account? Then purchase the Premium Plus plan for only $10.00 per month.
CyberGhost accepts orders via Bitcoin, Paypal and major credit cards. All plans include unlimited bandwidth usage, high-grade encryption, Anti-Fingerprinting feature and a 30 days money back guarantee.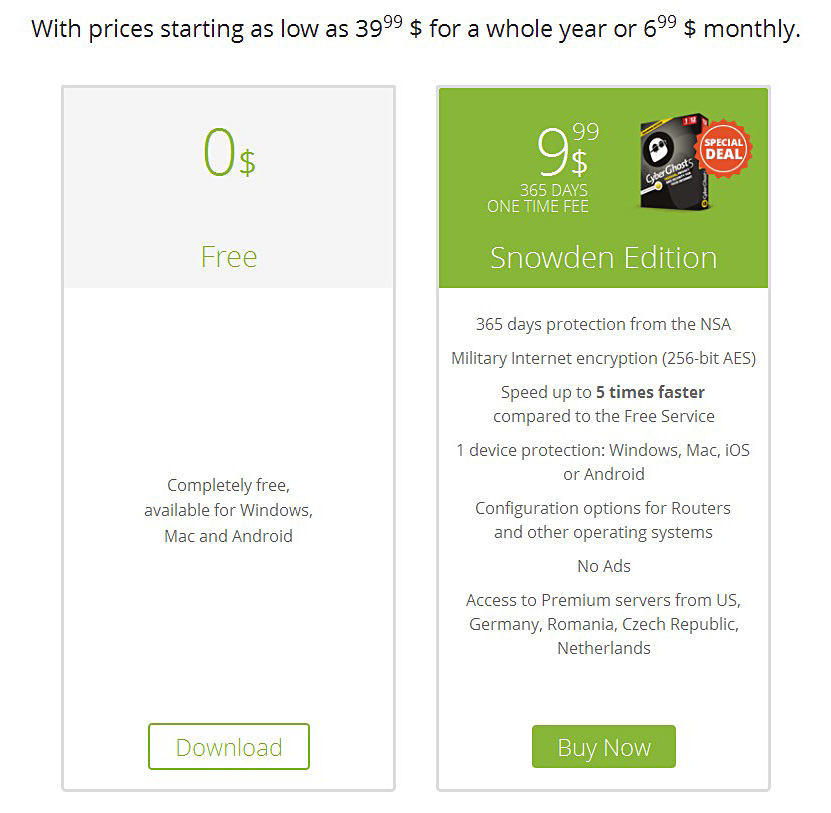 CyberGhost VPN Speed and Aftersales Support
CyberGhost's customer supports needs work in all honestly. CyberGhost claims to have 4 million users using their VPN service which is why we're puzzled by the lack of a 24/7 support system. There is a live chat feature but it seems like offline most of the time. In all fairness to CyberGhost, they do provide a notice saying that response time could be up to 48 hours.
Users may send an email at support@cyberghost.ro if they have technical questions. CyberGhost also has Help and FAQ pages wherein many questions have been answered already.
There are plenty of high-speed servers on the network to choose from. It's also worth noting that CyberGhost ditch support for SSTP, SSL and SSH protocols because they are known to impact internet speeds. A select number of servers also allow P2P traffic. Unfortunately for free plan users, P2P activities are only possible on Premium accounts.
CyberGhost VPN Review Conclusion
CyberGhost is a brilliant VPN service with loads of great features! From our first-hand experience using CyberGhost VPN, we can say that we're really pleased with its overall performance and we would definitely recommend the VPN service to others. CyberGhost caters to every VPN users all over the world. Give CyberGhost a try today and experience for yourself how good the VPN service in keeping your online activities safe.
Go to cyberghostvpn.com